A Building Survey is a highly detailed report suitable for any residential property and provides a full picture of the construction and condition of the property. Generally, we only recommend this detail of report for an older property, one of unusual construction, or one that has been substantially altered or extended. It is also recommended for times when you already know there are defects, and/or you are proposing to make significant changes once you have purchased.
The report includes a comprehensive appraisal of construction, a technical analysis and diagnosis of significant defects, as well as advice on further actions. It will also include identification of less significant defects, general disrepair and shortcomings in the physical condition, maintenance and design of the building, as well as a photographic record of the main issues. We do not estimate the cost of resolving defects, because competitive quotations for works vary considerably and further invasive investigation may reveal associated (unseen) issues. It is far better to obtain firm quotations from contractors you would consider to carry out the work.
We are here to provide a balanced view of the property you are buying and would be happy to discuss any concerns with you once you have read through your report.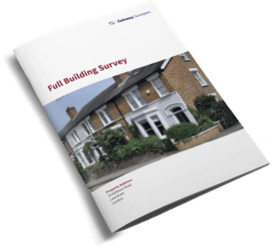 A sample report can be made available on request.
Prices start from
£695+VAT
For further advice, information, or a quotation, please contact our Sales Team:

The RICS (Royal Institution of Chartered Surveyors) is the mark of property professionalism worldwide, and the letters AssocRICS, MRICS and FRICS are the highest qualifications available for the surveyors in the UK. All of our reports are prepared by fully qualified and experienced RICS Surveyors.
Other Types of Survey available